How to Transfer Section 8 to Another State? Step by Step Guide
How to transfer section 8 to another state? Can you do that? I'm sure you have already found out that the answer is yes. But how do you do it? If transferring section 8 to another state sounds like something you need to do, then this article is written just for you.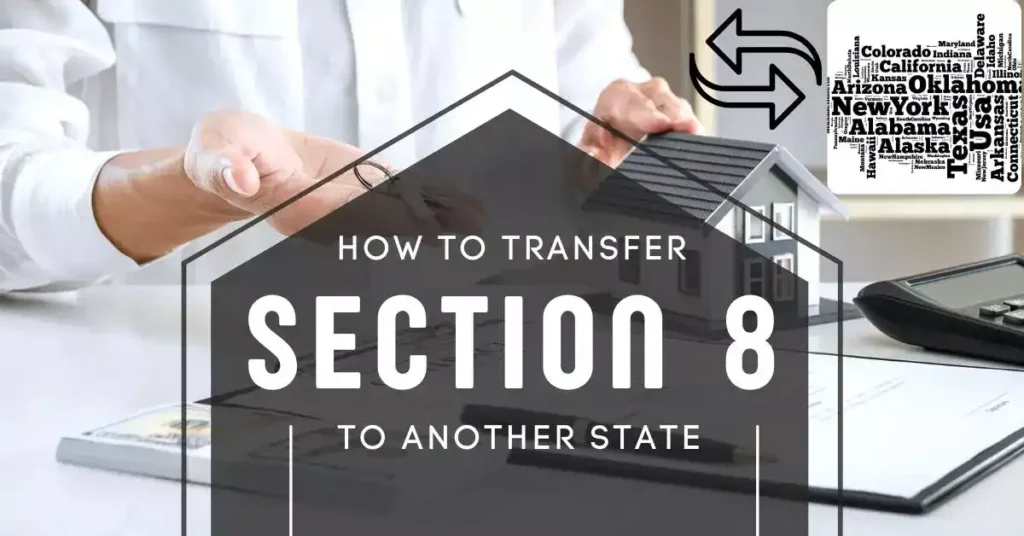 We'll look at the necessary steps and some helpful resources that will help make the process smooth so everything goes as planned. After reading this article, you'll have all the information you need to complete your transfer.
Learn Process of how to Transfer Section 8 to Another State
You can transfer your Section 8 housing voucher to another state, but only if the new state has a voucher program. When you move, the Department of Housing and Urban Development (HUD) allows you to transfer your Section 8 assistance from one state to another in most cases. Your local housing authority will be able to tell you if you are eligible for a transfer.
Transferring Section 8 housing vouchers is a complicated and time-consuming process, but it is possible. There are several steps to the process and this article will help you understand what each step entails.
We've put together a video breakdown of the process using a real case study. In less than 15 minutes, learn how to transfer Section 8 housing Choice Voucher benefits from Dallas County, Texas to Tarrant County, Texas. Well walk you through each step and give links and information for each reference used in the video.
Steps Involved in Transferring Section 8 Voucher
Depending on what state you live in, the rules and regulations on getting approved for section 8 may vary. If you want to transfer your section 8 voucher to a new place, Transferring section 8 is easy if you follow these steps.
Step 1: Determine Eligibility
Not every Section 8 recipient will qualify for a transfer. It is important to check with your local housing authority to see if you meet their requirements. Certain states have different rules, so it is best to contact your local authority first before continuing on with the process.
Step 2: Check With Local Authorities
Once you know that you are eligible for a transfer, you can get started on the process. The first step is to contact the PHA where you wish to move and request a transfer of voucher. You'll need to fill out paperwork and send it in along with a copy of your lease agreement and proof of income.
This includes pay stubs, W-2 forms, tax returns, bank statements and proof of other assets.
However, it is important to keep in mind that not every housing authority will take transfers of Section 8 vouchers from other authorities, so be sure to check before submitting any paperwork.
Step 3: Fill Out Paperwork
Once you've found an agency that will accept transfers of vouchers from another state or county, they'll send you a packet of information. Make sure that you read everything carefully and fill out the paperwork completely.
All the information in the documentation will be verified by the housing authority where you wish to move, so it's important that all of your documents are current and accounted for. Otherwise, this could delay or even prevent your transfer from going through as planned.
Step 4: How Long Does It Take?
It's impossible to say exactly how long it will take for your Section 8 voucher transfer request to be approved. Each housing authority sets its own schedule for reviewing applications, and depending on how many other people have applied, or if there is a waiting list for vouchers, it could take several months for you to hear back about your request.
If you haven't heard back after four months, contact the housing authority directly to check on the status of your application.
Once Receive notice that your request has been granted and your new housing authority approved. Get in touch with the new landlord or housing authority.
Step 5: Find a New Place
The next step is to find a new place. This may be more difficult than you think. You cannot choose an apartment at random and submit an application. Landlords will be hesitant to rent to you if they don't know much about the housing authority that is signing off on your living arrangement.
It might be difficult for them to trust that your voucher will cover your rent if there is any kind of issue with it.
They may even look at the recent qualifications of previous tenants who have been subsidized by a housing authority before agreeing to rent to you.
Step 6: Contact Your Local Housing Authority
Contact your local housing authority and tell them that you want to move out of state and need to find out if it's possible to transfer your voucher. Give them your current address and the address where you want to move.
Step 7: Get the PHA Contact Information
Request that they send a request for transfer directly to the new HUD office in the state where you plan on moving. You must have the request sent directly by your current housing authority or else the new housing authority won't process it.
Step 8: Waiting to Get an Answer
Wait until you get an answer from the new housing authority before contacting any landlord or signing a lease agreement in the new place you want to live at.
Once Receive notice that your request has been granted and your new housing authority approved. Get in touch with the new landlord or housing authority.
Step 9: Call to Landlords for Viewing Properties
Call landlords in the area where you'll be moving and make arrangements for viewing properties that meet HUD's standards.
Be sure to bring with you all the necessary documentation so that the landlord will be able to verify your income and perform a credit check on you if need be. If everything goes smoothly, sign a new lease agreement with the landlord.
Step: 10 Submit Request for Tenancy Approval
You have just been informed that you have been accepted into the new housing program. Congratulations! This is a big step towards gaining safe and decent housing. The next step is to complete the Request for Tenancy Approval form so that you can move into your new home.
Important Things to Keep In Mind
Everyone has the right to their own experiences and opinions but here are some important things to keep in mind when considering this offer so you can make an informed decision.
Find out what is porting or transferring
Find out if you can port your voucher to a new county or state
Check out the different things that are required from you before transferring vouchers
Find Out What Is Porting or Transferring
Porting is the process of transferring a Section 8 voucher from one housing authority to another.
In order to port Section 8, you must have a valid and active voucher from your current housing authority. You must also meet all local eligibility requirements for the new housing authority.
If you are currently in a Section 8 program but want to move to another jurisdiction, you may be eligible to "port" your voucher so that you can receive assistance in the new jurisdiction. Porting is not always possible, however, and there are restrictions on who can transfer their vouchers.
Portable Vouchers
Not all jurisdictions participate in the portability program. Even if your current housing authority will let you take your voucher with you when you relocate, the new housing authority may not accept it.
The local waiting lists are usually quite long, and some jurisdictions do not want to give priority to people who have moved into the area from somewhere else.
Even if you meet all of the eligibility criteria, porting is not guaranteed until all of the paperwork has been completed and approved by both housing authorities. You should speak with your caseworker about how long this process typically takes in your area. Many housing authorities will require that you sign a lease before approving your portability request
Find Out if You Can Port Your Voucher to a New County or State
You can only port your voucher to a new county or state if your Public Housing Authority agrees.
In general, housing authorities are more likely to grant requests to move to the following:
A family member's home
A county where your income is greater than 30% of the median income.
A state where you have a job.
If you live in an area with high demand for housing, it may be difficult to find a landlord who accepts vouchers.
In that case, you may be able to port your voucher to a new city or state where the demand for affordable housing is low. You can also port your voucher because of safety concerns. In any case, it is at the discretion of the Public Housing Authority whether or not they will allow you to move with your voucher.
Check Out the Different Things That Are Required From You Before Transferring Vouchers
If you have a Section 8 rental voucher and want to move, you must notify your local housing authority and request approval.
The rules for transferring vouchers vary depending on the type of voucher you have, but most transfers require that you meet the same eligibility criteria as an applicant applying for a new voucher.
Disclosure
A Section 8 rental voucher is a subsidy paid directly to the landlord on behalf of a low-income tenant to make up the difference between what she can afford and the actual cost of rent.
To qualify for a voucher, tenants must submit an application to their local public housing agency, which screens them based on income, citizenship status and criminal history.
Like other types of government assistance, tenants are expected to report any changes in their income or family size. Tenants with vouchers also must meet all other terms of their lease.
Transferring Vouchers
Unlike some subsidies, such as Social Security or unemployment benefits, Section 8 vouchers do not automatically transfer if you move from one location to another. If you move before your lease expires, that's considered breaking your lease and could result in losing your rental assistance. However, if your original lease is ending soon or you have already given notice to your landlord that you're moving out at the end of the lease term,
What Is Hcv Portability?
Portability allows a HUD Section 8 tenant or participant to move or relocate when the tenant is not satisfied with the current housing or location.
For instance, if you are living in an area where there is no public transportation and your job requires you to travel by bus, you may want to ask for transfer to another place that has better facilities. If you have a disabled family member and need better access to medical care, you may also request for portability.