Missouri Section 8 Income Guidelines: Eligibility & Applying Method
Missouri is a state in the Midwestern region of the United States. A state's section 8 income guidelines are used to determine whether or not a family or individual may receive benefits from the Section 8 program. The information in Missouri Section 8 Income Guidelines provided all necessary information, as well as provide details on applying for and receiving Section 8 in your area.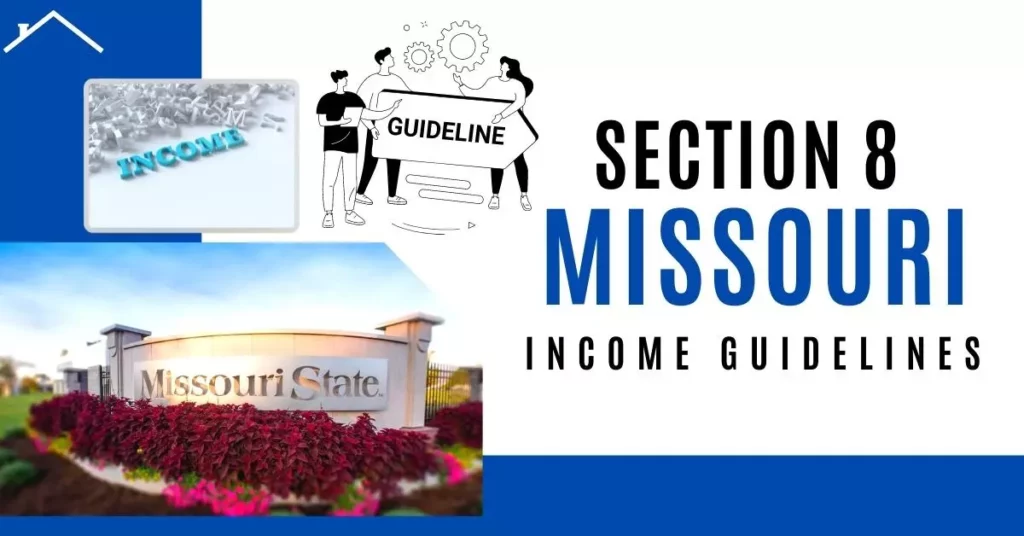 The Section 8 program, a federal housing assistance initiative, aims to aid low-income families and individuals in securing affordable housing. The eligibility criteria for Section 8 benefits vary from state to state, with each state establishing its income guidelines based on the area median income.
In Missouri Section 8 Income Guidelines, I'll delve into the 2023 income figures for Missouri's Section 8 program. I'll also explore the application process specific to Missouri and provide information on where you can apply for rental assistance through your local public housing agency and housing assistance payments contract.
Missouri Section 8 Income Guidelines
In 2023, the income criteria for Missouri Section 8, which provides rental assistance, will be calculated as 80 percent of the median income in your specific locality. Median income levels vary across different regions of Missouri, resulting in varying income thresholds for eligibility.
For instance, consider a family of four residing in St. Louis County. They may qualify for Section 8 assistance if their annual household income is at or below $37,600 last year. However, if this family were to live in other areas of Missouri, their income threshold would be lower, at $27,150 or less per year.
To determine the exact figures for your area, you can contact your local public housing agencies or local housing authority.
If you are interested in learning more about the specific Section 8 income limits in your area, contact your local PHA office.
Read also: Apartments For Rent Craigslist: Useful Tips
Missouri Section 8 Income Guidelines Based on the Number of People Living:
In Missouri, eligibility for Section 8 and other HUD programs hinges on income standards. These criteria vary depending on the number of individuals in your household. The housing unit rental assistance, facilitated by the housing authority through housing vouchers, is influenced by these income limits.
The median income limits for Missouri, along with specific details for each county and city, are outlined below.
In order to apply for Section 8, you must meet the following 3 criteria:
To qualify for housing assistance through Section 8 in Missouri, your household's combined annual income should fall below the local average. Exceptions to this income requirement are possible if a member of your household is elderly or disabled.
YProof of U.S. citizenship or legal residency, substantiated by a visa or green card, is a prerequisite. In some cases, even noncitizens can qualify for benefits if their family members are citizens or if they have registered with the Immigration and Naturalization Service (INS).
Additionally, you need to meet a specific age range, typically 18 years old or older (or 16-17 in some cases based on location). Once these criteria are met, and your application is approved by the Department of Housing and Urban Development (HUD), you can benefit from housing vouchers for a suitable housing unit.
The average monthly benefit amount is around $300 per month per participant, although it may be higher or lower depending on your individual circumstances such as the number of people in your household, number of bedrooms required, and income.
Applying for Section 8 Housing
If you're seeking Section 8 housing assistance in Missouri, the first step is to check if your local Public Housing Agency or housing authority (PHA) is currently accepting applications. If they are, you can apply conveniently online or submit a paper application. Alternatively, you can obtain an application by visiting the local PHA office.
To ensure a smooth processing of your application, provide accurate information and include all the necessary documents. This diligence helps prevent delays in the approval process for housing choice vouchers and ensures your eligibility for a suitable housing unit through the program.
Additionally, learn about getting Section 8 with a felony and how it may impact your eligibility.
The following are steps on how to apply for Section 8 in Missouri:
Reach out to your local Public Housing Authority (PHA) office. If they are currently not accepting applications, they will place you on a waiting list and notify you when they resume accepting new applications.
Determine your eligibility for the Section 8 housing program. To qualify, your income should be below 50% of the area median income. Additionally, you must successfully pass background checks and demonstrate U.S. citizenship or legal residency.
Complete the application form and submit it to your housing authority. Include all necessary documentation, such as your birth certificate, Social Security card, and proof of income (paystubs). If you opt for online application through GoSection8, create a username and password exclusive to you.
This process sets the stage for you to potentially receive rental assistance through housing vouchers, taking into account local preferences and assistance payments.
FAQ
Are the income limits the same throughout Missouri?
No, the income limits for housing voucher vary in different regions of Missouri because of differences in median income levels. What qualifies as a low-income threshold in one area may not be the same in another.
How often do the income guidelines change?
The income guidelines are typically updated annually. Changes can be influenced by factors like shifts in the median income levels in your area, inflation, and federal regulations.
What if my income exceeds limits?
If your income exceeds the income limits for Section 8 in your area, you may not be eligible for rental assistance through the Section 8 program. However, there are other affordable housing options and programs that you might consider.
Can I appeal if I don't meet the income guidelines but still need assistance?
You can totally check in with your local housing authority and ask about any special exceptions, waivers, or alternative housing programs that could be up your alley.
They might have some cool options that can work with your situation. Oh, and definitely mention the magic words "housing voucher" to see if that could be a game-changer for you. Good luck!
What other factors besides income are considered during the application process?
In addition to income, factors such as family size, citizenship status, and criminal background checks are also taken into account during the Section 8 application process.
How long does it take to get approved for Section 8 rental assistance in Missouri?
The processing time for Section 8 applications can vary, but it often takes several weeks to months. It's best to apply as soon as you meet the income guidelines and eligibility criteria.
Conclusion
Understanding Missouri Section 8 income guidelines is crucial for individuals seeking affordable housing unit solutions. By familiarizing yourself with the eligibility criteria, including the importance of a housing voucher and maintaining an eligible immigration status, you can navigate the process more effectively.
Additionally, being aware of how local preferences are established can provide valuable insights into optimizing your chances within the program. Whether you're a prospective tenant or a housing advocate, staying informed about these key factors ensures a smoother experience in accessing the benefits of Section 8 assistance in Missouri.